Services
Everything you need to know about the process of buying or selling a property in Jávea
Don't take any risks. Buying a property is a very big decision and it is important to make sure that you get some good advice. If you are looking to buy a property, you should look for a reliable agency who you can trust, specialists who will accompany you at every step, present you the most suitable properties for you and support you throughout the buying process.
At Eurojávea Inmobiliaria, we have more than 25 years of experience in property sales. We will accompany you throughout the whole process, answer your questions and take care of all the paperwork so that you don't have to worry about documentation, contracts or the notary's office. Proof of this can be seen in the feedback that we receive from customers and our wide network of contacts from completing over a thousand transactions. Let's talk about your plans!
Getting started
At Eurojávea, we have a large portfolio of exclusive properties. We will be delighted to listen to all your preferences so that we can find the house, villa or flat that best fits your needs. Once we have found the right home for you, we will take care of everything, including administrative procedures, paperwork and legal advice.
Reserving a home
If you already have a clear idea of the perfect property for you, the process is very simple. All you have to do is sign a Purchase Letter of Intent, acceptance of the offer and confirmation of receipt of deposit. With this simple formality, you will be able to agree on the basic purchase conditions such as price, dates and payment method. Then, once all the technical and legal checks on the property have been carried out, you will be able to move forward in a matter of weeks with the whole process.
Usually, this reservation is accompanied by an initial payment that allows the property to be removed from the agency's portfolio and no longer be shown to other clients. This payment can vary between €5,000 and €10,000, though in some cases, it is around 1% of the total price of the property.
Signing the private contract
Once you have registered your intent to buy, it is time to sign the private contract. This usually takes place within three to four weeks after reserving the property, once both parties have checked that all the property documentation is correct. The contract will set a date for the completion of the title deeds and a second payment will be made, which is normally around 10% of the total price of the property.
Taxes and fees relating to the purchase
Now we come to one of the most common questions that clients ask when buying a property: Do I have to pay a lot of taxes? What other expenses are there as a buyer?
Regarding taxes:
– If the property is not a new build, you will have to pay 10% of the total price of the property as transfer tax.
– If the property is a new-build property, you will have to pay 10% VAT on the transaction.
Aside from these taxes, the buyer will also have to assume the relevant notary and land registry fees, as well as all costs incurred to ensure that all the documentation is in order. Examples include the processing of the occupancy or second occupancy certificate, application for an energy certificate or registration of the size of the property or plot in the deed, in both the property register and land register.
Summary of taxes and fees when buying a property in Jávea 
*Example based on the general rule applied to new-build or resale properties. However, there are some cases with different percentages for plots of land, commercial premises, subsidies in different age brackets and other factors.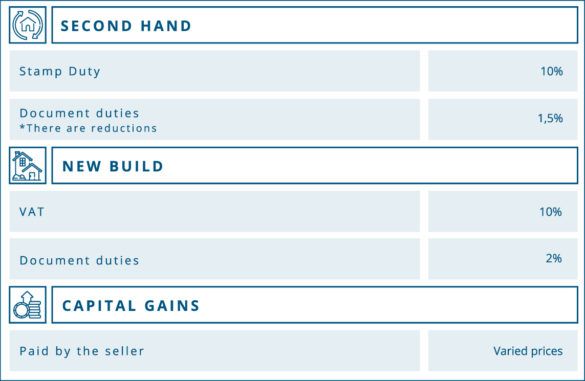 What taxes and fees are involved if you are the seller?
This is very simple. You will have to pay:
– the Plusvalia Municipal, which is a capital gains tax related to the increase in value of urban land.
– Estate agent's fees.
– Technical certificates: whenever you need to process a technical certificate or if there is a discrepancy between the actual size of the property or plot and the deeds.
The 7 documents you will need to record the property rights as public deed
Please take note and don't forget anything:
You will need the previous title deeds.
Include the duly registered energy certificate in your documentation.
For multiple occupancy buildings, you will also need the 'certificado de la comunidad' (housing group certificate), showing that the current owner is up to date with their payments.
Property tax (Impuesto de Bienes Inmuebles – IBI) receipts for the last 4 years.
For a new-build property, you will also need the 10-year insurance policy.
Be sure to include electricity, water and gas bills, as well as all utilities contracts.
Finally, you will need a valid licence of first or second occupation.
*Remember that if you were not born in Spain, you will also need to have a tax identification number (Número de Identidad de Extranjero – NIE) and a bank account in Spain.
This article covers the documentation required and the main requirements when buying or selling a property in Jávea. However, the Eurojávea team will assess the details of each individual case and carry out each procedure according to the needs of the client. If you have any questions regards buying or selling a property or need any further information, please do not hesitate to contact us by email at contacto@eurojavea.com.